WELCOME TO R.E. AUTOWORKS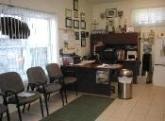 Thank you for visiting our new Internet site. As an up-to-date business,we want to give you the opportunity to stay in touch with our company. We are located at 14 Boynton Lane in Seabrook, NH right off of Route 1 at the Kohl's inter-section. Our hours of operation are: Monday-Friday 8am-5:30pm. You can reach us at 603-474-9720 and by fax at 603-474-0619. We are looking forward to hearing from you.

You can also contact us at our e-mail address:Rich@REautoworks.com. If you are not familiar with our company and your first contact with us is online: we would be pleased to hear from you! Please let us know what your needs and questions are, we will be more than happy to help.


R.E. Autoworks is a family owned business with over 20 years of experience in auto collision repair. We are a quality repair facility with state of the art refinishing equipment. We take the time to provide our customers with hassle free insurance claims and strive to complete work assignments in the most efficient and timely manner, returning your vehicle to you in pre-accident condition.

What makes R.E. Autoworks one of the most time efficent repair facility in the NH/MA seacoast area?

EQUIPMENT such as:

* PATHWAYS/CCC - computerized estimating program with digital imaging for quicker claim processing

* CHISUM - frame machine and precision measuring equipment provides accurate alignments

* DUPONT/COLORNET - quality paint and computerized paint system provides an exact color match to your vehicle

* GARMET USA - temperature controlled down draft paint booth for a factory matched baked on finish

Stop by anytime, Rich & Lori Eaton